"la Caixa" INPhINIT doctoral fellowships at IFIC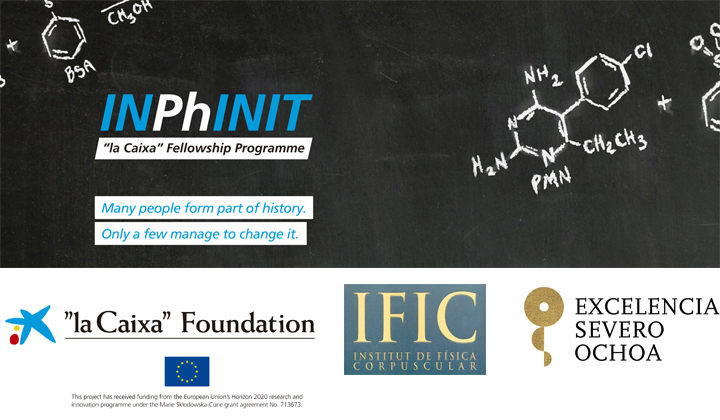 INPhINIT is a doctoral fellowship programme devoted to attracting international Early-Stage Researchers to the top Spanish research centres in the areas of Bio and Health Sciences, Physics, Technology, Engineering and Mathematics. INPhINIT is promoted by the "la Caixa" Foundation with European Commission's support through the Horizon 2020 Marie Skłodowska-Curie Actions and COFUND programme.
INPhINIT recruits 57 Early-Stage Researchers of any nationality, who enjoy a 3-year contract at the Research Centre of their choice among those awarded as "Severo Ochoa" centres of excellence and "Maria de Maeztu" units of excellence by the Spanish Ministry of Economy, Industry and Competitiveness.
The Instituto de Física Corpuscular (IFIC) is a joint centre of the Spanish Research Council (CSIC) and the University of Valencia (UV), devoted to research in Particle, Astroparticle and Nuclear Physics and its applications. IFIC covers both the theoretical and experimental aspects of these fields. Among its goals are the study of the Higgs boson, the top quark, the search for new particles and theoretical models, the study of the neutrino properties and their use as cosmic messengers, the research on nuclear physics and its applications, as well as the development of technology for new particle detectors and accelerators.
In 2015, IFIC was awarded with the "Severo Ochoa" accreditation as centre of excellence for its outstanding performance and scientific contributions at national and international level, its impact at industrial and social level, and the ability to attract scientific talent.
IFIC offers 14 PhD positions within INPhINIT programme. See here the full list.
INPhINIT fellows enjoy a 3-year contract under the Spanish labour legislation. In addition, the INPhINIT programme sets up a complementary skills training scheme that includes Technology Transfer and Entrepreneurship workshops, and Professional and Career Development sessions. INPhINIT fellows will take part in some of the several initiatives that "la Caixa" Foundation launches to bring science to the society.
Eligibility criteria:
- To be in the first four years of their research careers and not have been awarded a doctoral degree.
- Completed studies that lead to an official university degree of the European Higher Education Area or another university degree that gives access to doctoral studies.
- Not have resided or carried out their main activity in Spain for more than 12 months in the 3 years immediately prior to the recruitment date.
- Demonstrable level of English (B2 or higher).
Selection process:
"la Caixa" Foundation will carry out the selection of international candidates following the evaluation criteria. Subsequently, the selected candidates propose the Centre and PhD position to merge.
Dealine: 1 February 2018.
Find your PhD position (Select "Instituto de Física Corpuscular - IFIC" as a Researh Center)
More information:
https://obrasociallacaixa.org/en/educacion-becas/becas-de-posgrado/inphinit/programme-description
This project has received funding from the European Union's Horizon 2020 research and innovation programme under the Marie Sklowdowska- Curie grant agreement No. 713673